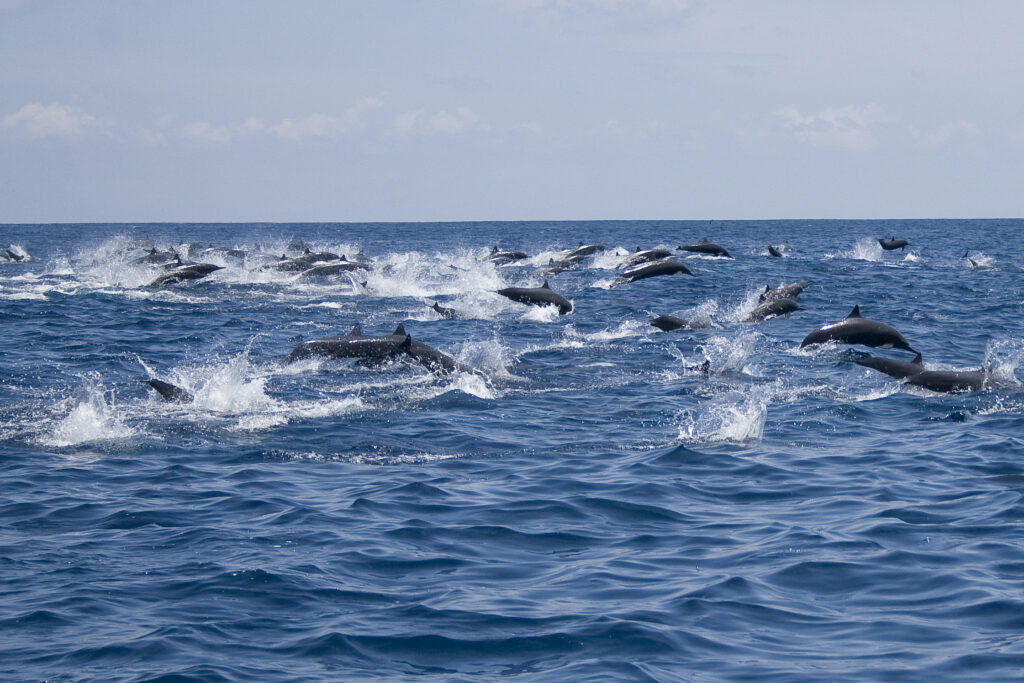 'And on the sixth day the Horses came'.
The words of Edwin Muir, describing a post-apocalyptic world. Paraphrased by me, with apologies. There had been no apocalypse. We were six days out of Salvador in Brazil, on our way back to the UK, and for us, the spinners came. Not horses, spinners.
Where were we?
Our position was 20 miles to the east of the Brazilian archipelago known as 'Fernando do Noronha'. Sailors were forbidden from landing there, but many did on their way south, citing 'shortage of water' as their force majeure.
We, though, were headed north having left Salvador for the Azores archipelago with five days of fuel, at least six thousand miles ahead of us and provisions for 50 days. Fresh water is what limits a crew's duration at sea, but we had plenty of that.
Crew Stress
There was a 50/50 possibility (as I told my companion) of being able to call in at the Cape Verde Islands. My companion Kristina, a dear friend and ex-lover, was a game lady, but our trip from Rio de Janeiro to Salvador (our Brazilian departure) had been fraught. I'd been pretty much on my own for a month in the Bahia Da Isla Grande (a huge bay with a new anchorage for every day of the year). I was in Brachuy, 80 miles south of Rio, when Kristina arrived from the UK. I was, to say the least, excited. Excited but controlled.
However, my then current flame, Rosemary, had flown back to the UK from Rio, and I was still 'attached'. Stress, in spades. I'd eventually settle with Rosemary after many adventures together, but that's another story. Such are the lives of sailors.
Anyway, after some histrionics all round in Salvador, and threats of Kristina flying home (and packing/unpacking a couple of times), we made our departure in early May 2006.
Our Route
I'd allowed 24 hours of motor-sailing north eastward to find wind, three days of motoring through the doldrums, and then another 24 hours of fuel in hand for our approach heading northwest to the Azores (the sailing course following the tradewinds describes an 'S' on the chart from Salvador to England via the Azores). Five days fuel, that's all we had.
My small yacht is not fast, but she's comfortable and easy at sea. We needed the first 24 hours to find wind, and what we found was not a lot, but it was all we had, and patience is a great virtue in a sailing vessel at sea. 60 miles a day we were making, with nearly 6,000 ahead of us. Our daily mileage would have to improve — the target average was 120 miles a day.
Entertainment
We had plenty of books with us, many music CDs, a few DVDs, and Kristina was an accomplished folk guitarist and singer. I planned to learn at least a few chords with her and a Bob Dylan song book to help on our voyage, and also to teach myself astro-navigation with a sextant. It turned out that the f chord on the guitar was a stretch too far for my fingers. So, 'House of the Rising Sun' was a no-go for me, but I did get to grips with 'Blowin' in the Wind'. And I did manage a couple of sun sights with the sextant — but I never got round to 'working them up' as sailors say — GPS was just too easy.
I'm a foodie but Kristina did not enjoy cooking. Fortunately it's a pleasure for me and I get to eat what I like. I don't think that she planned to improve her cooking on the voyage and there was no evidence that she did, but to be fair her cooking was reasonable. I do remember her Cornish pasties.
The Equator and the Horses
The Doldrums extend a few hundred miles each side of the Equator and are also known as the Horse Latitudes. This is where the sailing vessels would have to throw their horses overboard to conserve fresh water, but we had plenty of water and no horses to throw overboard. We also had wine. Brazilian wine is an acquired taste so ours was Chilean and Argentinian.
Kristina had never crossed the Equator on a boat, and so I need to design a suitable ceremony to gain King Neptune's favour and convert her into a 'shellback', a real sailor. King Neptune was pleased with my endeavours and she was duly annointed. Unfortunately the video of the event is not suitable for family viewing. And no, I didn't step out of line, believe me!
Weather and Piracy
The weather was fair for us — it can be very squally — and we were lucky. With little wind to drive us three days motoring took us through the Doldrums and on towards the Gulf of Guinea, an area of moderate piracy risk. We were followed for several hours by a suspicious vessel and I readied the satphone in case of emergency, but after tracking us closely for most of the night they broke off just after dawn. Soon after that we found the northeast Trades and tacked heading northwest with the fair wind.
Landfall at Last
We eventually made landfall at Santa Maria in the Azores after 39 days at sea. The winds and available fuel had not allowed us to stop at the Cape Verde Islands en route. The nearest we'd got was 400 miles to the archipelago — and that caused another eruption from the crew. Still, my guitar playing had improved. And I'd managed to be a 'good boy' — more or less.
People ask me 'Wasn't it boring?' My answer is 'No, I didn't want to be anywhere else', but there were occasional moments when a change of crew would have been welcome, and I guess that worked both ways.
The Spinners and the Horses
And the spinners? Yes, spinner dolphins, hundreds of them, appeared all around us near Fernando da Noronha. They are called spinner dolphins because they leap out of the water and spin in the air. It's spectacular to watch. The reason for this behaviour is unknown, but I like think that they do it for the sheer fun of being alive.
But let's finish up with The Horses. It always puzzled my why the warship in Muir's ode had bodies 'piled on the deck'. They would certainly have been 'high', but why piled on the deck? Why weren't they just buried at sea? 'The Horses' is a work I studied at school in the sixties, deep in the time of the Cold War, and the imagery and words are still with me. That's just one of the many reasons why I go to sea.
And yes, it is a true story.
This is just part of my 6 month voyage in 2006 from the Canary Islands to Brazil and back to Plymouth, UK. Try my other stories on the short stories menu tab